Join us each Tuesday from 12:30 to 2:00 at the On Wings Office for Ladies Bible study, including prayer, encouragement, fellowship and fun! The minute you step on the porch at the On Wings Office, you will know you're in a special place. A place of acceptance, a safe place for sharing, and a place that the Lord has ordained.
Our current study on Tuesdays is, Nehemiah: a heart that can break by Kelly Minter and is led by Kathy Allen 
Nehemiah will inspire you to listen to what God has put in your heart to do.  Let God break your heart for the hurting, because He often uses a breaking heart to restore the broken.
If you have any questions please call the office at 336-829-5060.
Join us at 12:30, you'll be glad you did!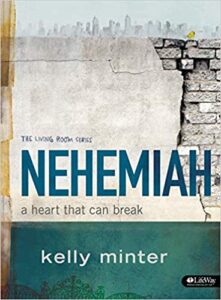 For More Information about On Wings Like A Dove, reach out to us here or connect with us here.
Our Newsletter for the current month is available here.