Let's Share Life – Under Construction!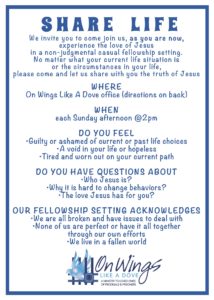 Join us beginning Sunday, February 11, at 2:00 pm, to Share Life. It makes no difference your current circumstances, join us as you are now. We will fellowship and share the love of Jesus in a casual, non-judgmental gathering that will be facilitated by Bryan Milleson.
For More Information about On Wings Like A Dove, reach out to us here or connect with us here.
Our Newsletter for the current month is available here.